Oct 01, 2007 at 11:06 PM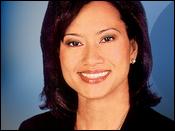 Thúy Vũ is an award-winning reporter at CBS 5 reporting primarily for the 5 p.m. and 6 p.m. newscasts. She joined the station in December 2005, working out of the San Jose bureau.

This is her second stint at the station. She was at KPIX for four years as a reporter and fill-in anchor in the 1990`s.

Prior to re-joining CBS 5, she worked at KTVU-TV as a reporter and fill-in anchor and at ABC7 as a weekend morning anchor and reporter.

Thuy started her journalism career in public radio at KQED-FM in San Francisco. She later moved on to National Public Radio (NPR), where she first covered Congress and national politics in Washington, D.C. before returning to their San Francisco bureau.
Thuy has won numerous regional and national awards, including a Best Serious Feature award from the Associated Press Television and Radio Association, Best Reporter award from American Women in Radio and Television, two national awards from the Asian American Journalists Association and honors from the Public Radio News Directors Association. She was also nominated for an Emmy award for her investigation of safety problems at California`s amusement parks.

In 2004, readers of AsianWeek selected her as their favorite Asian American broadcaster. San Francisco`s Focus magazine (now renamed San Francisco magazine) once named her one of the Bay Area`s most talented people under 40 years old.

Thuy has covered many major stories, including the 1989 Loma Prieta earthquake, the 1991 Oakland Hills fire, the O.J. Simpson trial and verdict in Los Angeles and the mass cult suicide of Heaven`s Gate members in Rancho Santa Fe.

In 2000, she traveled to Washington, D.C. to cover the historic U.S. Supreme Court ruling on the contested Florida vote in the presidential election. Thuy has also returned to her homeland of Vietnam twice for special reports on the country`s post-war life.

She was the recipient of a Jefferson Fellowship from the University of Hawaii`s East-West Center in 1992. At the time, she was the youngest person ever admitted to the competitive program.

Thuy emigrated from Vietnam in 1975, fleeing the country with her family as Saigon fell to the communists. She holds a Bachelor`s Degree with Honors in Rhetoric from U.C. Berkeley.
---
Last Updated ( Oct 01, 2007 at 11:09 PM )