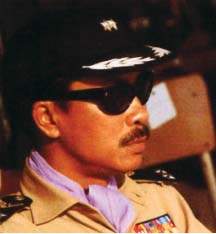 Nguyễn Cao Kỳ (born 1930) is a Vietnamese politician, who served as Prime Minister of South Vietnam from 1965 to 1967, and then as Vice President until his retirement from politics in 1971.
Biography
A career soldier who eventually became commander of the South Vietnamese Air force, Ky had little political experience or ambition. Under the regime of Duong Van Minh, whose coup Ky had supported, he was made an air marshal/general.
In 1965 Ky was appointed Prime Minister by a special joint meeting of military leaders following the voluntary resignation of civilian President Phan Khac Suu and Prime Minister Phan Huy Quat. South Vietnam`s system of government shifted to that of a strong prime minister, with General Nguyen Van Thieu, becoming a figurehead president. Ky proved to be a strong leader and was able to unite the military, thus ending the cycle of coups that plagued South Vietnam following the CIA led murder of President Ngo Dinh Diem.
Ky`s primary agenda while in power was to eliminate the massive corruption that had existed at all levels of Vietnamese society, especially government and the military. He sanctioned the execution of several high profile business leaders accused of corruption. During his reign, he made many foreign state visits to bolster South Vietnam`s legitimacy as a sovereign nation. Ky`s greatest struggle came in 1967, when a military revolt in the government of Da Nang threatened to escalate into widespread chaos.
The country`s first, and debatably only, free Presidential elections was held in 1967 . The military government council, which Ky chaired, intended to only endorse one candidate for the presidency. Ky intended to run, but at the last minute changed his mind and backed Thieu, a move he now calls "the biggest mistake of my life." Thieu nominated Ky as his running mate and the two were elected with 38% of the vote.
1967-1971 he served as Vice President to President Nguyen Van Thieu, although behind the scenes there was a fierce rivalry between the two men that left Ky marginalized. He considered running against Thieu when he ran for re-election in 1971, but instead retired from politics, convinced that the Thieu-dominated administration would never allow anything close to a fair election.
Ky`s withdrawal from the race left Thieu running unopposed. According to some sources, the "sham election" of 1971 was the main reason why many - including U.S. Secretary of State Henry Kissinger - lost any remaining illusions that credible democratic institutions could be established in South Vietnam.
For three years Ky retired from politics and lived on a farm commune in the countryside. He returned as a military commander in 1975 as the military forces of Communist North Vietnam closed in on the South. Many military leaders hoped he would be re-appointed as Prime Minister in this time of crisis, but President Thieu, still distrustful of Ky, refused. In his autobiographies, How We Lost the Vietnam War and Buddha`s Child: My Fight to Save Vietnam, Ky recounted his last-minute attempts at bolstering the troops and establishing an effective defense. He also had support from the French government, which was looking to reenter Vietnam and supplant the US. Ultimately he was unsuccessful.
Life in Exile
After the defeat of South Vietnam by North Vietnam in 1975, Ky fled to the United States, and settled in California where he ran a grocery store.
He made headlines in 2004 by being the first South Vietnamese leader to visit Vietnam since the war. He returned there again in early 2005, this time accompanied by his current wife. They attended a formal reception given by Vietnam`s leaders to representatives of overseas Vietnamese and announced his decision to move back to Vietnam to live permanently. Ky also declared he would try to help bring more investments to Vietnam.
Ky was well-known for his flamboyant and colorful personality and dress during his younger days. His trademark fashion accessory was a purple scarf (while he was in uniform in the 1960`s and 70`s) and he was rarely seen without a cigarette. A purported "ladies man," Ky was married three times and fathered at least six children.
Ky`s daughter, Nguyen Cao Ky Duyen, is a well-known personality in the overseas Vietnamese entertainment industry (usually in the role of MC for musical programs).
---