Apr 03, 2009 at 01:56 PM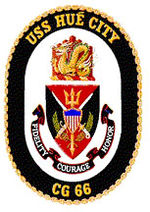 USS Huế City (CG-66) is a Ticonderoga class guided-missile cruiser serving in the United States Navy. She is named for the Battle of Hue, fought in the city during the Tet Offensive 1968 by the 1st Marines (composed of 1st Battalion/1st Marines, 1st Battalion/5th Marines, 2nd Battalion/5th Marines and attached units) during the Vietnam War. The three battalion commanders were the honored guests at her 1991 commissioning. Annually the ship hosts a Battle of Hue Memorial Service attended by ship's company and veterans of the battle from the U.S. Marines, Navy corpsmen, and attached units. Hué City is the only U.S. Navy ship named for a Vietnam battle.

USS Hué City (CG-66)
Career (USA)
Namesake:
Battle of Hue
Ordered:
16 April 1987
Laid down:
20 February 1989
Launched:
1 June 1990
Commissioned:
14 September 1991
Homeport:
Mayport, Florida
Motto:
Fidelity, Courage, Honor
Fate:
Active in service as of 2009
General characteristics
Displacement:
approx. 9,600 tons full load
Length:
567 feet (173 m)
Beam:
55 feet (17 m)
Draught:
33 feet (10 m)
Propulsion:
4 × General Electric LM2500 gas turbines, 2 shafts, 80,000 shp (60 MW)
Speed:
32.5 knots (60 km/h)
Complement:
33 officers & 327 enlisted
Sensors and
processing systems:
AN/SPY-1A/B multi-function radar
AN/SPS-49 air search radar
AN/SPG-62 fire control radar
AN/SPS-55 surface search radar
AN/SPQ-9 gun fire control radar
AN/SQQ-89(V)3 Sonar suite, consisting of AN/SLQ-32 Electronic Warfare Suite
Armament:
2 × 61 cell Mk 41 vertical launch systems
122 × RIM-66 SM-2, RIM-162 ESSM, BGM-109 Tomahawk, or RUM-139 VL-Asroc
8 × RGM-84 Harpoon missiles
2 × Mark 45 5 in / 54 cal lightweight gun
2 × 25 mm
2–4 × .50 cal (12.7 mm) gun
2 × Phalanx CIWS
2 × Mk 32 12.75 in (324 mm) triple torpedo tubes
Aircraft carried:
2 × Sikorsky SH-60 Seahawk LAMPS III helicopters.
---
Last Updated ( Apr 03, 2009 at 01:57 PM )