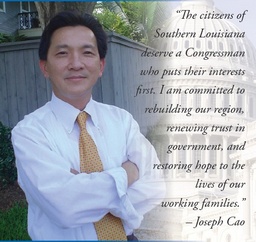 Anh "Joseph" Quang Cao (Vietnamese: Cao Quang Ánh pronounced /gaʊ/; Gow[3]) (born March 13, 1967) is a New Orleans lawyer and a U.S. Representative from Louisiana's 2nd congressional district. He is a member of the Republican Party. On December 6, 2008, Cao defeated nine-term Democratic U.S. Representative William Jefferson with 49.6 percent of the vote to Jefferson's 46.8 percent. Cao is the first Vietnamese-American as well as the first native of Vietnam to serve in Congress. He won in a district that usually votes overwhelmingly Democratic.
Cao previously ran unsuccessfully as an independent for District 103 of the Louisiana House of Representatives.[4] He was a delegate to the 2008 Republican National Convention.[5] Cao is a member of the Orleans Parish Board of Election Supervisors.[6] A devout Roman Catholic, he is a board member for Mary Queen of Vietnam Catholic Church's Community Development Corporation[7] which assists Vietnamese-Americans with hurricane relief,[8] and is a member of the National Advisory Council of the U.S. Conference of Catholic Bishops.[9]
Family
Cao's father, My Quang Cao (born 1931), was a lieutenant in the Army of the Republic of Vietnam and was captured by the North Vietnamese Army at the end of the Vietnam War. His mother, Khang Thi Tran (born 1935), fled South Vietnam in May 1975, during the fall of Saigon, with Cao and two more of her seven children. Cao was 8 years old when he arrived to the United States with two siblings and an uncle as a refugee.[10] Cao's father was imprisoned for seven years in a communist re-education camp, before being released and joining his family in Houston, Texas. Both of Cao's parents, the mother pushing the wheelchair-bound father, attended their son's swearing-in ceremony in Washington on 2009 January 6.[11] Cao is married to Hieu "Kate" Hoang; they have two daughters—Sophia and Betsy. The Caos live in New Orleans' Venetian Isles neighborhood.[12] Kate and Joseph met, in 1998, at Mary Queen of Vietnam Catholic Church in New Orleans East and have attended there since, with the children. After the 2008 election, registered pharmacist Kate, an alumna of the Xavier University of Louisiana College of Pharmacy, resigned her position with a New Orleans Walgreens pharmacy.[13]The family relocated to the District of Columbia for Joseph Cao's congressional service.[14]
Education
Cao graduated from Jersey Village High School in Houston. He then earned a bachelor's degree in physics at Baylor University and for 6 years became a Jesuit seminarian.[15] Cao received his master's degree in philosophy from Fordham University. Cao formerly taught philosophy at Loyola University New Orleans, where he earned his Juris Doctor in 2000.
Legal career
Cao abandoned his plans to become a Roman Catholic priest to focus on lay ministry in assisting parishioners and others, using his legal training and experience in immigration issues.
He taught at a local parochial school in Virginia and volunteered at Boat People SOS (BPSOS)[16] to assist Vietnamese refugees and immigrants and help organize Vietnamese-American communities toward self-sufficiency. He served as a board member of BPSOS from September 1996 to March 2002.
After working with Waltzer & Associates, Cao opened his own law practice specializing in immigration law. He decided to enter politics after seeing the ineffective government response to Hurricane Katrina, and soon became involved in leading New Orleans East residents to oppose a landfill.[17]
Louisiana's 2nd Congressional District election, 2008
The situation, endorsements, campaign dynamics, and results gave the election significance far beyond the boundaries of the district.
Situation
Incumbent U.S. Representative William J. Jefferson won the Democratic primaries in 2008. Jefferson had weathered a major challenge in the Louisiana 2nd congressional district election, 2006, overcoming allegations that he had inappropriately used members of a Louisiana Army National Guard unit to reach his home during the aftermath of Hurricane Katrina.[18]
In 2008 Jefferson also faced federal charges of bribery involving Nigerian business interests and was perceived as vulnerable, with only 25 percent of Democrats voting for him in the Democratic primary. Jefferson faced six African-American challengers, along with newscaster Helena Moreno, all clamoring to change Louisiana's reputation for political corruption.[19] In a runoff primary, Jefferson defeated Moreno by 57 percent to 43 percent in a vote largely along racial lines. Unopposed for the Republican nomination, Cao ran against Jefferson, as did Green Party candidate Malik Rahim and Libertarian Party candidate Gregory Kahn.[20] An earlier candidate, independent Jerry Jacobs, had withdrawn.[21]
Endorsements
On November 30, the New Orleans Times-Picayune endorsed Cao in an editorial,[22] while on its op-ed page columnist James Gill stated that Jefferson's reelection "is not going to happen."[23] The prospect of a serious general election in the heavily African American and Democratic 2nd district was startling, as the last Republican to represent the district was Hamilton D. Coleman, who left office in 1891.[24]
Cao's candidacy received the endorsements of the Alliance for Good Government,[25] the Family Research Council's Action PAC,[26] Jefferson Parish Sheriff Newell Normand,[27] Louisiana Governor Bobby Jindal,[28] and singer Pat Boone.[29] In the final days of the campaign Democrats Helena Moreno, who was defeated by Jefferson in the Democratic primary runoff election, and former District Attorney Harry Connick, father of singer Harry Connick, Jr., endorsed Cao and recorded telephone messages to be played to voters.[27] New Orleans Mayor Ray Nagin had announced his support for Jefferson during the Democratic primary elections. The New Orleans Gambit Weekly, citing its opposition to Jefferson's alleged corruption and to Cao's noncommittal statements on embryonic stem-cell research, made no endorsement.[30]
Campaign
The campaign was characterized by what Jefferson's campaign called "overly negative" tactics on behalf of Cao's campaign by outside organizations, such as the National Republican Congressional Committee. References were made to Democratic Speaker of the House Nancy Pelosi's removal of Jefferson from the House Ways and Means Committee and entailed what USA Today termed a "barrage"[31] of automated telephone calls, including from a woman who identified herself as "Katy" and who cited Jefferson's federal indictment on 16 counts of corruption. In a meeting of African-American ministers, Reverend Samuel Butler claimed the reason was to "disenfranchise" African-American voters, which motivated Cao advisor and former New Orleans City Council member Bryan Wagner[32] to reply: "with Rev. Butler's imagination, he may want to go to work for Walt Disney."[33]
On December 6, the Times-Picayune reiterated its endorsement of Cao, pointing to President-Elect Barack Obama's efforts on behalf of Democrat Paul Carmouche in the simultaneous election in Louisiana's 4th congressional district and Obama's non-involvement in efforts to support Jefferson.[34]
Results
CNN, at 10:20 PM CST of the election day, projected Cao to win.[35] Complete unofficial results on the Louisiana Secretary of State's web site showed Cao with 33,122 (49.55%), Jefferson 31,296 (46.82%), Kahn 548 (0.82%), and Rahim 1,880 (2.81%).[36] Jefferson won by 23,197 to 20,246 in Orleans Parish, where 21 of the 392 precincts showed zero votes for Cao.[37] Cao, however, more than made up the difference with a margin 12,696 to the incumbent's 8,099 in Jefferson Parish.[38] A post-election map analysis by the Times-Picayune showed the election result as having depended on higher turnout in the precincts favorable to Cao.[39]
After speaking by telephone 4 days after the election, on 2008 December 31, Wednesday, Jefferson and Cao met cordially at the home of New Orleans' Liberty Bank CEO Alden McDonald to discuss the transition. Despite the difference in seniority, the late date of Cao's election means that he will inherit Jefferson's office, 2113, in the Rayburn House Office Building.[40]
Cao made the following staff appointments:[41]
District Aide: Murray P. Nelson
Director of Constituent Services: John Tobler
Director of Special Projects: Rosalind Peychaud
Legislative Director: Christopher Ingram
Scheduler: Anna Dearmon
After confirmation by the House Republican Conference, Cao was assigned to the Homeland Security Committee and the Transportation and Infrastructure Committee.[42]
Significance
Politico.com declared Cao's victory one of America's "Top 10 Political Upsets" of 2008.[43]
Cao's win rendered the 2nd District the most Democratic district in the nation to be represented by a Republican; the district has a Cook Partisan Voting Index of D+28.[44]
Cao's victory over a tainted incumbent became a cause for celebration among many in Louisiana. As stated by Jeff Crouere in his column Ringside Politics, "The victory strikes a major blow against the reputation of Louisiana as a corrupt state."[45] Contrasts to a virtually simultaneous event—the allegation that Illinois continued to be corrupt as its governor, Rod Blagojevich, was trying to benefit personally by selling a U.S. Senate seat—were inevitable.[46]
No sooner had Cao been elected than questions about his reelectability were already front and center. According to AP reporter Kevin McGill,paraphrasing longtime New Orleans political consultant William "Bill" Rouselle, Cao "will have his work cut out for him."[47] In this presumed quest for reelection Cao has been adamantly encouraged by Wagner, who, as described by Times-Picayune columnist Stephanie Grace,asserts that Cao can win reelection if he staffs key positions with African-Americans and emphasizes service to constituents. Grace quoted Wagner as saying that, if Cao focuses on the needs of the people he represents, they "aren't going to care whether the congressman is black, yellow or blue."[48] In his final column of 2008, John Maginnis, naming Cao's election as one of eight reasons why the year was one of the "most eventful" in Louisiana political history, asserted that Cao's "electoral future is uncertain but not untenable."[49]
As of 2008 December 20, Cao's relationship to the Congressional Black Caucus remained uncertain. George Mason University political scientist Michael K. Fauntroy described Cao's expressed interest in joining as "a very smart move":
It sends a message to black voters in his district that, even though he's a Republican, he is doing more than just paying lip service to the history of the district. . . . I don't expect it to work out, but if it doesn't, to me the caucus will look bad on this.

[

50

]
House GOP members have particularly been vocal in their glee over Cao's defeat of the Democrat. Among many other statements, House minority leader John Boehner asserted Cao's win as "a symbol of our future" in a memorandum with "The Future Is Cao" as its subject line.[51]
Electoral history
Louisiana State Representative, 103rd Representative District, 2007[52]
Threshold > 50%
First Ballot, October 20, 2007

| | | | |
| --- | --- | --- | --- |
| Candidate | Affiliation | Support | Outcome |
| Reed S. Henderson | Democratic | 1,376 (21.61%) | Runoff |
| Mark Madary | Republican | 1,188 (18.66%) | Runoff |
| "Mike" Bayham | Republican | 1,154 (18.13%) | Defeated |
| Clay Cosse | Republican | 1,144 (17.97%) | Defeated |
| Anh "Joseph" Cao | Independent | 895 (14.06%) | Defeated |
| "Rob" Ruffino | Democratic | 609 (9.57%) | Defeated |
Second Ballot, November 17, 2007

| | | | |
| --- | --- | --- | --- |
| Candidate | Affiliation | Support | Outcome |
| Reed S. Henderson | Democratic | 3,143 (52.37%) | Elected |
| Mark Madary | Republican | 2,858 (47.63%) | Defeated |
U. S. Representative, 2nd Congressional District, 2008[52]
See also: United States House of Representatives elections in Louisiana, 2008
| | | | |
| --- | --- | --- | --- |
| Candidate | Affiliation | Support | Outcome |
| Joseph Cao | Republican | 33,132 (49.54%) | Elected |
| Bill Jefferson | Democratic | 31,318 (46.83%) | Defeated |
| Others | n.a. | 2,432 (3.64%) | Defeated |
---
---
Comment by GUEST on 2015-01-25 02:51:28


The Louisiana Music Factory specializes in Cajun Music, New Orleans Jazz & Zydeco Music and has prbboaly the largest selection you'd find.References :
---
Comment by GUEST on 2015-01-26 20:49:36


You really saved my skin with this inarmoftion. Thanks!
---
Comment by GUEST on 2015-01-27 20:19:27


There a couple of ineitrsteng points in time in this article conversely I do not discover if I see these peoplecenter to heart. There exists some validity but I will take hold opinion until I consider it further.Great article , thanks and that we want far more!Added onto FeedBurner too http://xfhvpq.com [url=http://kixhdbnzfwa.com]kixhdbnzfwa[/url] [link=http://fwhswsi.com]fwhswsi[/link]