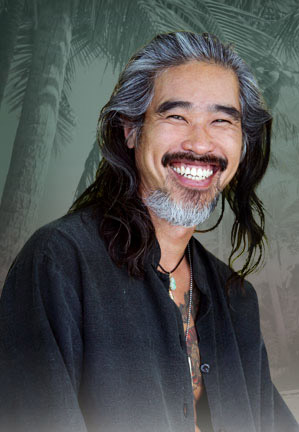 is the first Vietnamese-American contestant of the reality series Survivor: Cook Islands.

Born in Vietnam, Anh-Tuan "Cao Boi" (pronounced Cowboy) Bui was a Vietnam War refugee when he was 11 years old. He eventually moved to the U.S. and attended Virginia Polytechnic Institute and State University. He previously worked as a photographer, used car salesman, fisherman and farm hand. He currently works as a nail salon manager.
Bui's hobbies include bicycling, hiking, sky diving, photography and meditation. He hiked the Appalachian Trail in 2003 and has biked cross-country. He also enjoys playing classical music on his Martin Backpacker guitar.

Bui is the world-record holder in Marathon Softball where he played for 100 hours while serving in the 82nd Airborne Division of the U.S. Army. He is a member of the Loyal Moose Lodge #1470 in Christiansburg, Virginia, 82nd Airborne Division Association, Boy Scouts of America and Cub Scouts of Vietnam.

Bui is married to Kristol Bond and has two children, Jesse Dakota and Nicholas Roundtree. He has one dog, Charlie Woof, which he brought back from Vietnam when he visited in 2003. He also has two cats, Minki and Pinki. He currently resides in Christiansburg, Virginia. His birth date is April 10, 1964.
---
---
Comment by GUEST on 2015-10-17 18:13:08


website c491c3b3 trc3aan cc3a1c cc3b4ng ce1bba5 tc3acm kie1babfm. Cc3a0i c491e1bab7t Plugin chia se1babb cc5a9ng lc3a0 1 trong se1bb91 5 bc3ad quye1babft SEO cc3a1c webmaster phe1baa3i bie1babft. c490e1bb8dc thc3aam:6 Bc3ad quye1babft SEO hie1bb87n c491e1baa1iCc3a1c mc3b4 hc3acnh gic3a1 trong Online Marketing http://omvfpzjp.com [url=http://uhyuvdjgh.com]uhyuvdjgh[/url] [link=http://nodule.com]nodule[/link]
---
Comment by GUEST on 2015-10-18 00:21:55


All is money, guys. It means nothing. Lee was born in the United States, and he never live of sinlge day under Vietnamese communist hardline regime(from 1954-1986), Neither do most young Vietnamese who were born after 1986 in Vietnam. Vietnam now is not a communist country, it is controlled by dictatorship such as China, Taiwan before 1988, South Korea before 1988, Singapore now. The difference is the controlled party called communist party instead of Nationalist Party(Taiwan) or socialist democratic party(South Korea). Lee is careless about politics. By Vietnamese Law, only 3 or 4 foreign players can play in the V team that's why he has to get Vietnamese citizen. However, The United States might take his American citizenship away from him(I doubt they will do that, but they could).Still Lee won't be able to play for Vietnamese National team unless he resign his American citizenship, which he won't because He already played for American National team. Last but not least, do not politicize things, guy. He is still our kids.