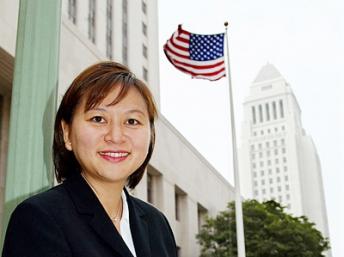 Jacqueline Hong-Ngoc Nguyen (born in Da Lat, South Vietnam 1965) is a United States Circuit Judge for the United States Court of Appeals for the Ninth Circuit.
Early life and education
Born Hong-Ngoc Thi Nguyen (Vietnamese: Nguyễn Thị Hồng Ngọc) in Da Lat, Vietnam, Nguyen moved to the United States when she was 10, after the fall of the South Vietnamese government in 1975. The daughter of a South Vietnamese army major who had worked closely with U.S. intelligence officials, Nguyen moved with her family first to an army tent at Marine Corps Base Camp Pendleton, where she lived for several months. They ultimately settled in the La Crescenta-Montrose area of Los Angeles. Her family later opened a doughnut shop in North Hollywood, where Nguyen worked throughout high school and college.
Nguyen earned her Artium Baccalaureus degree in English in 1987 from Occidental College. She then earned a Juris Doctorate from UCLA School of Law in 1991.
Xem tiếp...