Nguyễn Ngọc Ngạn 25 Năm Sân Khấu - San Jose, CA

30-07-2017

Live Show :: Hồ Quang Hiếu - Montreal, Canada

02-09-2017

Những Tình Khúc Vượt Thời Gian - Ottawa, Canada

21-10-2017

Summer Love Party - Falls Church, VA

19-08-2017

Nguyễn Ngọc Ngạn :: Kể Chuyện Trong Đêm - Tulalip, WA

19-07-2017

Cám Ơn Anh Người Thương Binh VNCH, kỳ 11 - San Jose, CA

06-08-2017

Mùa Thu Yêu Đương - Immokalee, FL

30-09-2017

Dạ Vũ Tình Yêu - Canada

21-10-2017

Ca Nhạc Từ Thiện :: Tình Yêu 4 - 2500 Valby, Demark

09-09-2017

Dạ Vũ Sweet Dream - Westminster, CA

09-07-2017

IndepenDANCE - St. Louis, MO

04-07-2017

Hồ Ngọc Hà :: Love Songs - San Jose, CA

08-07-2017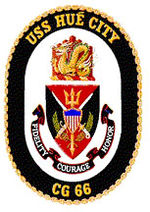 USS Huế City (CG-66) is a Ticonderoga class guided-missile cruiser serving in the United States Navy. She is named for the Battle of Hue, fought in the city during the Tet Offensive 1968 by the 1st Marines (composed of 1st Battalion/1st Marines, 1st Battalion/5th Marines, 2nd Battalion/5th Marines and attached units) during the Vietnam War. The three battalion commanders were the honored guests at her 1991 commissioning. Annually the ship hosts a Battle of Hue Memorial Service attended by ship's company and veterans of the battle from the U.S. Marines, Navy corpsmen, and attached units. Hué City is the only U.S. Navy ship named for a Vietnam battle.
Xem tiếp...
| | | |
| --- | --- | --- |
| Entertainment | | Information |
| | | |