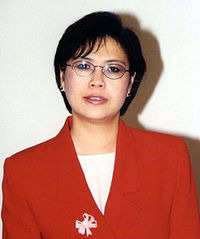 Nguyệt Ánh Dương is a Vietnamese-American scientist, born in South Vietnam.

In October 2001, she was in charge of a special endeavor and assisted in creating an urgently needed new weapon called the Thermobaric weapon in support of Operation Enduring Freedom to effectively defeat tunnels and caves being used as terrorists hideouts, in order to spare United States Armed Forces from the bloody prospect of tunnel-to-tunnel combat against the Taliban in Afghanistan.

She is noted as the "Scientist who developed the bomb that ended the war with Afghanistan." by the Vietnamese American National Gala.

During the invasion of South Vietnam by the Communist North Vietnamese Army and their Viet Cong Agents, she and her family left their beloved nation, while the Army of the Republic of Vietnam (ARVN) were defending the capital city of Saigon.
Xem tiếp...