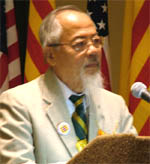 Nguyễn Khánh (born November 8, 1927) is a former Chief of State and Prime minister of South Vietnam. He was a General, Commander-in-chief, Chief of Staff in the Army of the Republic of Vietnam and Ambassador.
On January 2, 2005, he was appointed to serve as the Chief of State of the Government of Free Vietnam, an anti-communist organisation which seeks to overthrow the Vietnamese Communist Party. The organisation is not recognised by any major country.
Biography
He was born at Tra Vinh Province, Vietnam. The son of a nightclub owner in Da Lat, he had joined the Viet Minh, led by Hồ Chí Minh to liberate Vietnam from French colonialism. He abandoned them after learning of their aspirations of governing Vietnam under a Communist system. He then joined the Vietnamese National Army under the leadership of Emperor Bảo Đại in the First Indochina War against the Viet Minh.
Xem tiếp...