Lam Phương :: Dòng Nhạc Trữ Tình - Anaheim, CA

06-11-2016

Nơi Mùa Thu Bắt Đầu - Cordova, TN

29-10-2016

Hội Ngộ Sao Đêm Paris 3 - Seine, France

06-11-2016

NEX Entertainment Show - Falls Church, VA

27-11-2016

Dạ Vũ Mừng Xuân - Montreal, Canada

14-01-2017

Mái Ấm Gia Đình Nails - Kansas City, MO

27-11-2016

Halloween Party - Garden Grove, CA

29-10-2016

Người Tình Phương Xa - Ontario, Canada

05-11-2016

Sài Gòn Nhỏ Minnesota 15 Năm - Bloomington, MN

12-11-2016

Nhớ Người Yêu - Columbus, OH

20-11-2016

Winter Wonderland - Honolulu, HI

11-12-2016

Hear My Voice - Fountain Valley, CA

06-11-2016

Người Tình Mùa Đông - Minnesota

03-12-2016

Tiệc Tình Thương - Charlotte, NC

13-11-2016

Halloween Contest - Santa Ana, CA

30-10-2016

Halloween Party - Sacramento, CA

29-10-2016

Đại Nhạc Hội Dạ Tiệc THU VÀNG - Carrollton, TX

29-10-2016

Âm Nhạc & Những Người Bạn - Graden Grove, CA

29-10-2016

Dạ Vũ :: Happy New Year - Cleveland, OH

31-12-2016

11th Annual Mr. & Mrs. Vietnam Continents - Las Vegas, NV

24-12-2016

Jimmy .JC. Nguyễn :: Tình Xa Nghĩa Cũ - Sydney, Australia

11-11-2016

Mrs. Việt Nam Áo Dài in USA 2016 - Chicago, IL

19-11-2016

Halloween Party - Westminster, CA

28-10-2016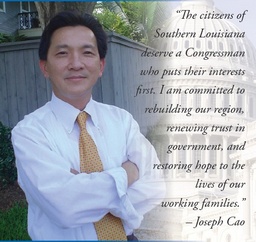 Anh "Joseph" Quang Cao (Vietnamese: Cao Quang Ánh pronounced /gaʊ/; Gow[3]) (born March 13, 1967) is a New Orleans lawyer and a U.S. Representative from Louisiana's 2nd congressional district. He is a member of the Republican Party. On December 6, 2008, Cao defeated nine-term Democratic U.S. Representative William Jefferson with 49.6 percent of the vote to Jefferson's 46.8 percent. Cao is the first Vietnamese-American as well as the first native of Vietnam to serve in Congress. He won in a district that usually votes overwhelmingly Democratic.
Cao previously ran unsuccessfully as an independent for District 103 of the Louisiana House of Representatives.[4] He was a delegate to the 2008 Republican National Convention.[5] Cao is a member of the Orleans Parish Board of Election Supervisors.[6] A devout Roman Catholic, he is a board member for Mary Queen of Vietnam Catholic Church's Community Development Corporation[7] which assists Vietnamese-Americans with hurricane relief,[8] and is a member of the National Advisory Council of the U.S. Conference of Catholic Bishops.[9]
Xem tiếp...
| | | |
| --- | --- | --- |
| Entertainment | | Information |
| | | |